Comparison of Dietary Habits and Psychological Outcomes in Hostelites and Day Scholars
Dietary Habits and Outcomes in Hostelites and Day Scholars
Keywords:
Dietary Habits, Hostelites, Day Scholars, Lifestyle, Psychological Health
Abstract
A student's transition to college is marked by a new phase of independence, joyous activities, lifestyle changes, and behavior that includes eating habits. Eating habits have a long-term effect on a person health. Objective: To assess and compare dietary habits among day scholar and hostelites and their psychological outcomes. Methods: Using the Kessler Psychological Distress Scale (K10) and the Global Sleep Assessment Questionnaire (GSAQ), a cross-sectional study with a sample size of 100 students was carried out at the University of Lahore over a period of four months. Results: Frequency of normal BMI was more in hostelites as compared to Day scholars. The comparison of day scholars and students living in hostels also revealed that hostelites have more psychological distress, their sleeping quality is worse and they have bad eating habits. Several aspects were assessed by questionnaires in the study which find out that Lifestyle and dietary habits have an effect on the psychological health among university students. Conclusions: This study highlighted the difficulties college students have in leading nutritionally healthy lives, particularly when they reside in dorms. The current findings point to a worryingly high incidence of psychological discomfort, as well as unhealthy eating, sleeping, and lifestyle choices that need o0to be targeted and changed.
References
Pullman AW, Masters RC, Zalot LC, Carde LE, Saraiva MM, Dam YY, et al. Effect of the transition from high school to university on anthropometric and lifestyle variables in males. Applied Physiology, Nutrition, and Metabolism. 2009 Apr; 34(2): 162-71. doi: 10.1139/H09-007.
Irwin JD. The prevalence of physical activity maintenance in a sample of university students: A longitudinal study. Journal of American College Health. 2007 Jan; 56(1): 37-42. doi: 10.3200/JACH.56.1.37-42.
Steptoe A and Wardle J. Health behavior, risk awareness and emotional well-being in students from Eastern Europe and Western Europe. Social Science & Medicine. 2001 Dec; 53(12): 1621-30. doi: 10.1016/S0277-9536(00)00446-9.
Algahtani FD. Healthy Lifestyle among Ha'il University Students, Saudi Arabia. International Journal of Pharmaceutical Research & Allied Sciences. 2020 Jan; 9(1): 160-7.
Saleem S, Mahmood Z. Mental health problems in university students: A prevalence study. FWU Journal of Social Sciences. 2013 Dec; 7(2): 124-130.
Lee RL and Loke AJ. Health‐promoting behaviors and psychosocial well‐being of university students in Hong Kong. Public Health Nursing. 2005 May; 22(3): 209-20. doi: 10.1111/j.0737-1209.2005.220304.x.
Laska MN, Pasch KE, Lust K, Story M, Ehlinger E. Latent class analysis of lifestyle characteristics and health risk behaviors among college youth. Prevention Science. 2009 Dec; 10(4): 376-86. doi: 10.1007/s11121-009-0140-2.
Jorgensen RS and Maisto SA. Alcohol consumption and prehypertension: an investigation of university youth. Behavioral Medicine. 2008 Apr; 34(1): 21-8. doi: 10.3200/BMED.34.1.21-28.
Desai MN, Miller WC, Staples B, Bravender T. Risk factors associated with overweight and obesity in college students. Journal of American College Health. 2008 Jul; 57(1): 109-14. doi: 10.3200/JACH.57.1.109-114.
Pender NJ, Barkauskas VH, Hayman L, Rice VH, Anderson ET. Health promotion and disease prevention: toward excellence in nursing practice and education. Nursing Outlook. 1992 May; 40(3): 102-6.
Sayed SA. A cross-sectional study on eating habits and food related beliefs and knowledge in university students of Karachi, Pakistan. Pakistan Journal of Public Health. 2012 Jun; 2(2): 36-40.
Sadia A, Strodl E, Khawaja NG, Kausar R, Cooper MJ. Understanding eating and drinking behaviors in Pakistani university students: a conceptual model through qualitative enquiry. Appetite. 2021 Jun; 161: 105133. doi: 10.1016/j.appet.2021.105133.
Nisar N, Qadri MH, Fatima K, Perveen S. Dietary habits and life style among the students of a private medical university Karachi. Journal of Pakistan Medical Association. 2008 Dec; 58(12): 687-90.
Dayi A, Acikgoz A, Guvendi G, Bayrak L, Ersoy B, Gur C, et al. Determination of factors affecting physical activity status of university students on a health sciences campus. Medical Science Monitor: International Medical Journal of Experimental and Clinical Research. 2017 Jan; 23: 325-334. doi: 10.12659/MSM.899816.
Sirang Z, Bashir HH, Jalil B, Khan SH, Hussain SA, Baig A, et al. Weight patterns and perceptions among female university students of Karachi: a cross sectional study. BMC Public Health. 2013 Dec; 13(1): 1-8. doi: 10.1186/1471-2458-13-230.
Tufail S, Ahmed A, Kanwal R, Malik A, Noor Z, Ain Mushtaq QU. Dietary Habits and Knowledge of Nutritional Requirements of Students of a Private Medical College. Pakistan Armed Forces Medical Journal. 2020 Oct; 70(5): 1474-80.
Thompson SH and DeBate RD. An exploratory study of the relationship between night eating syndrome and depression among college students. Journal of College Student Psychotherapy. 2009 Dec; 24(1): 39-48.
Moor KR, Scott AJ, McIntosh WD. Mindful eating and its relationship to body mass index and physical activity among university students. Mindfulness. 2013 Sep; 4(3): 269-74.
Reed JA and Phillips DA. Relationships between physical activity and the proximity of exercise facilities and home exercise equipment used by undergraduate university students. Journal of American College Health. 2005 May; 53(6): 285-90.
Liu C, Xie B, Chou CP, Koprowski C, Zhou D, Palmer P, Sun P, et al. Perceived stress, depression and food consumption frequency in the college students of China Seven Cities. Physiology & Behavior. 2007 Nov; 92(4): 748-54.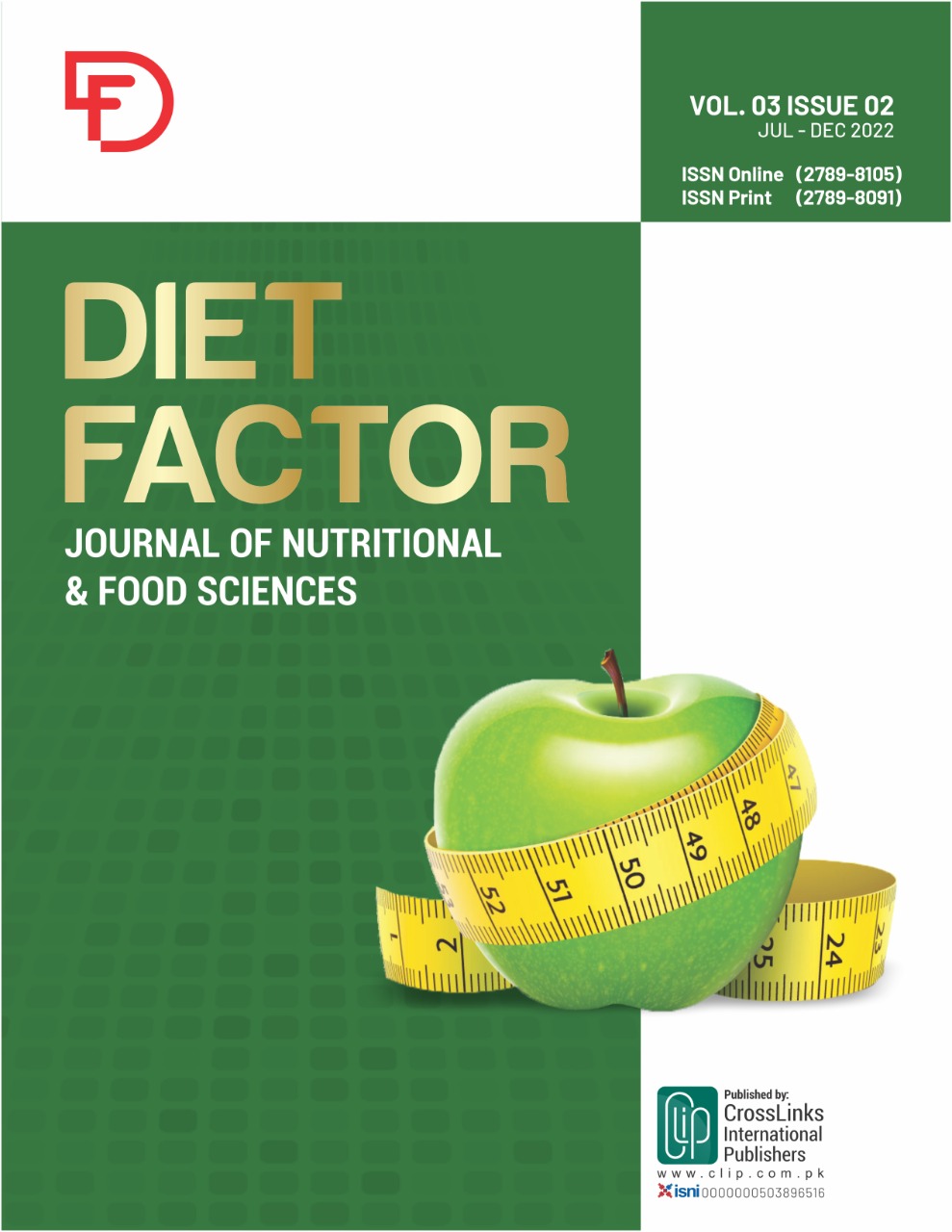 Downloads
CITATION
DOI: 10.54393/df.v3i02.60
How to Cite
Qureshi, A. ., Aslam, M. ., Kamran, H. ., Sandhu, K. ., & Fatima, D. . (2022). Comparison of Dietary Habits and Psychological Outcomes in Hostelites and Day Scholars : Dietary Habits and Outcomes in Hostelites and Day Scholars . DIET FACTOR (Journal of Nutritional &Amp; Food Sciences), 3(02), 22–27. https://doi.org/10.54393/df.v3i02.60
License
Copyright (c) 2022 DIET FACTOR (Journal of Nutritional & Food Sciences)
This work is licensed under a Creative Commons Attribution 4.0 International License.
This is an open-access journal and all the published articles / items are distributed under the terms of the Creative Commons Attribution License, which permits unrestricted use, distribution, and reproduction in any medium, provided the original author and source are credited. For comments