Causes of Infertility Among Married Women Visiting Outdoor Hospitals in Lahore, Pakistan
Infertility Among Married Women
Keywords:
Infertility, Married women, Endometriosis, Miscarriages, Glucose intolerance
Abstract
Infertility is defined as the inability to conceive following a reasonable period of unprotected sexual activity without the use of contraception. Objective: To find the determinants of infertility among married women visiting public Hospitals, Lahore. Methods: A cross sectional study was conducted at Public hospitals in Lahore during 4 months. A questionnaire was used to collect data from 100 married women. The study included all adult married women with infertility. SPSS version 21.0 was used to analyze the data. Results: The results revealed that the minimum age of participants was 20 to 30 years and the maximum was 30 to 40 years. The minimum weight of the participants in the study is 40 to 50 kg and maximum value was 50 to 60 kg. Infertility was found in 50% of women who had previously been treated for infertility, and in 52% of women who were experiencing trouble getting pregnant. Endometriosis, the most prevalent cause of infertility, was detected in 45 percent of the subjects. 57% participants has been attempting pregnancy in months and 43% were attempting in years. Conclusions: With 60% of the participants in this study developing glucose tolerance, which can result in celeic diseases, women who experience unexplained infertility or recurrent miscarriages are also more likely to experience celeic sickness. In order for medical experts and the government to be able to provide infertility care, further research is urgently required to learn more about the current state of fertility and associated risk factors.
References
Zeinab H, Zohreh S, Gelehkolaee KS. Lifestyle and outcomes of assisted reproductive techniques: a narrative review. Global journal of health science. 2015 Sep; 7(5):11.
Masoumi SZ, Parsa P, Darvish N, Mokhtari S, Yavangi M, Roshanaei G. An epidemiologic survey on the causes of infertility in patients referred to infertility center in Fatemieh Hospital in Hamadan. Iranian journal of reproductive medicine. 2015 Aug; 13(8):513.
Sharifi F, Jamali J, Larki M, Roudsari RL. Domestic violence against infertile women: a systematic review and meta-analysis. Sultan Qaboos University Medical Journal. 2022 Feb; 22(1):14.
Dhont N, Luchters S, Muvunyi C, Vyankandondera J, De Naeyer L, Temmerman M, et al. The risk factor profile of women with secondary infertility: an unmatched case-control study in Kigali, Rwanda. BMC women's health. 2011 Dec; 11(1):1-7.
Mallikarjuna M and Rajeshwari BV. Selected risk factors of infertility in women: case control study. International Journal of Reproduction, Contraception, Obstetrics and Gynecology. 2015 Nov; 4(6):1714-20.6.
Deshpande PS and Gupta AS. Causes and prevalence of factors causing infertility in a public health facility. Journal of human reproductive sciences. 2019 Oct; 12(4):287.
Seshadri S and Sunkara SK. Natural killer cells in female infertility and recurrent miscarriage: a systematic review and meta-analysis. Human reproduction update. 2014 May; 20(3):429-38.
Berga SL. Social determinants of infertility: beyond the obvious. Fertility and Sterility. 2016 Jun; 105(6):1459-60.
Sabarre KA, Khan Z, Whitten AN, Remes O, Phillips KP. A qualitative study of Ottawa university students' awareness, knowledge and perceptions of infertility, infertility risk factors and assisted reproductive technologies (ART). Reproductive Health. 2013 Dec; 10(1):1-0.
Benksim A, Elkhoudri N, Addi RA, Baali A, Cherkaoui M. Difference between primary and secondary infertility in Morocco: frequencies and associated factors. International journal of fertility & sterility. 2018 Jul; 12(2):142.
Kong L. Prenatal Metabolic Risks for Offspring Neurodevelopmental and Psychiatric Disorders. Karolinska Institutet (Sweden); 2021.
Moreno-Maldonado C, Ramos P, Moreno C, Rivera F. How family socioeconomic status, peer behaviors, and school-based intervention on healthy habits influence adolescent eating behaviors. School Psychology International. 2018 Feb; 39(1):92-118.
Liu J, Jin L, Ren A. Nutritional Status of Selenium and Its Association with Diet and Indoor Air Pollution among Pregnant Women in a Rural Area of Northern China. International Journal of Environmental Research and Public Health. 2021 Nov; 18(22):12090.
Akalewold M, Yohannes GW, Abdo ZA, Hailu Y, Negesse A. Magnitude of infertility and associated factors among women attending selected public hospitals in Addis Ababa, Ethiopia: a cross-sectional study. BMC Women's Health. 2022 Dec; 22(1):1-1.
Briceag I, Costache A, Purcarea VL, Cergan R, Dumitru M, Briceag I, et al. Current management of tubal infertility: from hysterosalpingography to ultrasonography and surgery. Journal of Medicine and Life. 2015 Apr; 8(2):157.
Zhou Z, Zheng D, Wu H, Li R, Xu S, Kang Y, et al. Epidemiology of infertility in China: a population‐based study. BJOG: An International Journal of Obstetrics & Gynaecology. 2018 Mar; 125(4):432-41.
Murto T, Kallak TK, Hoas A, Altmäe S, Salumets A, Nilsson TK, et ak. Folic acid supplementation and methylenetetrahydrofolate reductase (MTHFR) gene variations in relation to in vitro fertilization pregnancy outcome. Acta obstetricia et gynecologica Scandinavica. 2015 Jan; 94(1):65-71.
Pourhoseingholi MA. Epidemiology and burden of gluten-related disorders. InGluten-Related Disorders 2022 Jan 1 (pp. 59-81). Academic Press.
Grieger JA, Grzeskowiak LE, Bianco-Miotto T, Jankovic-Karasoulos T, Moran LJ, Wilson RL, et al. Pre-pregnancy fast food and fruit intake is associated with time to pregnancy. Human Reproduction. 2018 Jun; 33(6):1063-70.
AlTaee HA, Edan BJ, Al-Sallami DW. Prevalence and risk factors of infertility in women from Al-Mahaweel district, BabylonIraq.
Javaid S, Mastoi SW, Jahan E, Khalid S, Jabeen A, Mahajan N. Prevalence of Infertility and Its Causes in the Population of Pakistan: A Cross-Sectional Study. Annals of the Romanian Society for Cell Biology. 2022 Feb; 26(01):129-33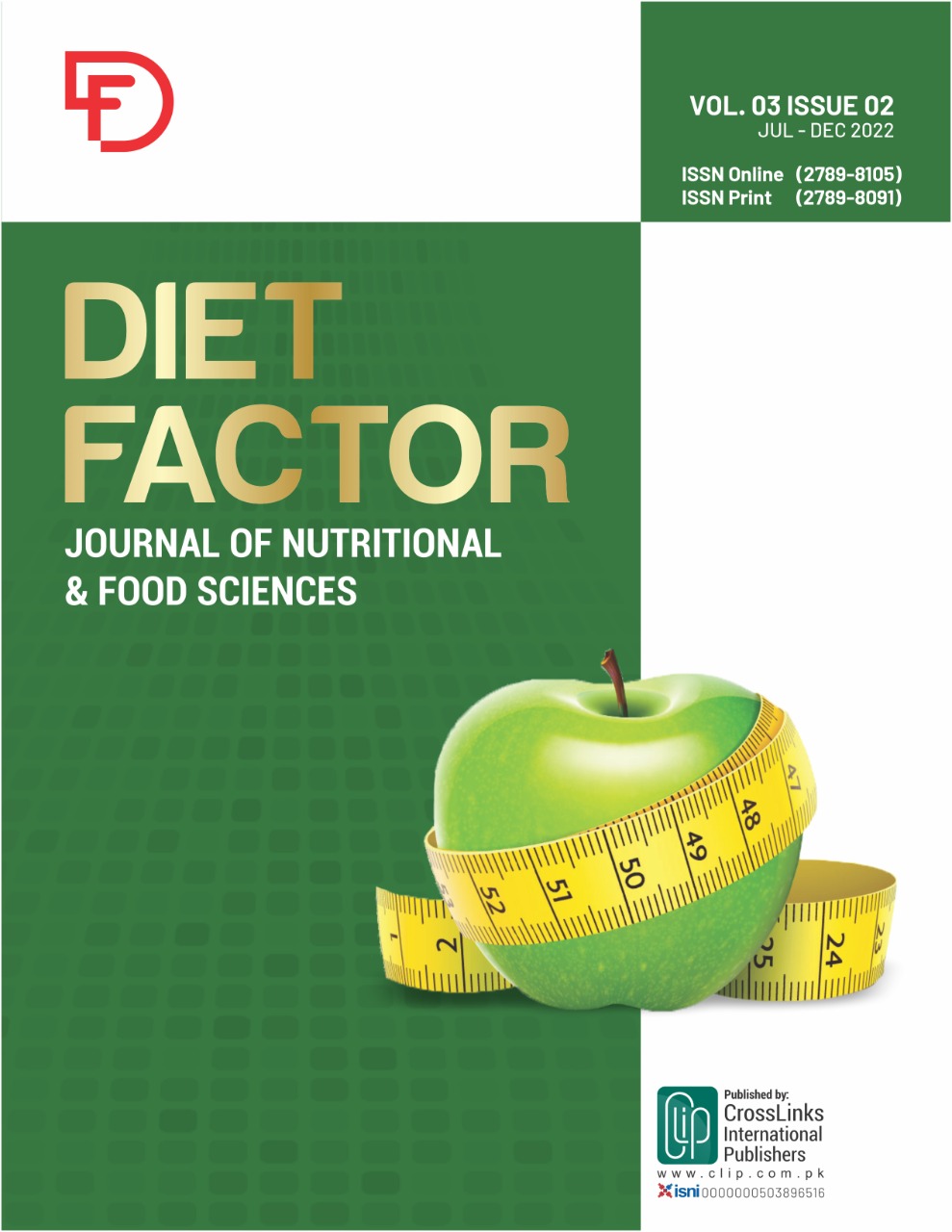 Downloads
CITATION
DOI: 10.54393/df.v3i02.62
How to Cite
Khan, M. ., Aslam, M. ., Jabeen, S. ., Bukhari, S. ., Baloch, H. ., Alveena Naqvi, S. ., & Rafique, A. . (2022). Causes of Infertility Among Married Women Visiting Outdoor Hospitals in Lahore, Pakistan: Infertility Among Married Women. DIET FACTOR (Journal of Nutritional &Amp; Food Sciences), 3(02), 17–21. https://doi.org/10.54393/df.v3i02.62
License
Copyright (c) 2022 DIET FACTOR (Journal of Nutritional & Food Sciences)
This work is licensed under a Creative Commons Attribution 4.0 International License.
This is an open-access journal and all the published articles / items are distributed under the terms of the Creative Commons Attribution License, which permits unrestricted use, distribution, and reproduction in any medium, provided the original author and source are credited. For comments