Health Concerning Lifestyle and Risky Behaviours in University Going Female Students Residing In The Hostels of Lahore
Lifestyle and Risky Behaviours in Female Hostel Students
Keywords:
Stress, Fast food, Smoking, Dietary habits, Physical activity
Abstract
Health behaviors are actions that have an impact on one's health or illness risk. There are two types of hazardous behaviors: those that are harmful to one's health and those that are beneficial to one's health. Unhealthy habits tend to cluster in young people, according to a growing body of data. Health-related behavior patterns fluctuate greatly between nations and even within a single country's regions. Many factors like food safety, cultural, socio-economic factors, age, sex, nutrition, behavior, physical activity and diseases were assessed among female students with the age of 19 to 25 years. Objective: To assess the health concerning practices among university going Hostelite girls in Lahore. Methodology: A cross-sectional study was conducted among the girls residing at the hostel of University of Lahore, Lahore with the duration of 04 months. The non-probability convenient sampling technique was used to choose 272 university students in this cross-sectional study. Pre-tested questionnaire was used to assess the health-related lifestyle and behaviors of university going Hostelite girls and data were analyzed with SPSS version 21.0. Results: 76.4% of female students were belonged from middle class, 61.7% girls experienced normal living experience in hostels, while 57.7% students found hostels environment restricted, 43.0% female students found hotels mess food tasteless and 68.8% preferred homemade food. 22.8% of students smoked on a regular basis, while 81 percent of the students said they engaged in frequent physical activity and exercise. The majority of female students had unhealthy eating habits, with a high intake of fast food and salt. Conclusion(s): Knowledge, practices, and attitudes, as well as legal constraints, social environment, and economic position, may all influence good and bad health behaviors. Lower health literacy, on the other hand, leads to more unhealthy habits.
References
[ ] Fazal R, Kazimi AB. Dietary Behavior Of University Going Female Adolescents In Pakistan: Issues, Challenges And Strategies For General Health And Academic Performance. Pakistan Journal of Gender Studies. 2019 Jun;18(1):97-112. Doi:10.46568/pjgs.v18i1.27.
[ ] Van Tuijl, C., Madjdian, D., Bras, H., & Chalise, B. Sociocultural and economic determinants of stunting and thinness among adolescent boys and girls in Nepal. Journal of Biosocial Science. 2021: 53(4), 531-556. doi:10.1017/S0021932020000358.
[ ] Medcalf A, Nunes J. Visualising primary health care: World Health Organization representations of community health workers, 1970–89. Medical History. 2018 Oct;62(4):401-24. doi:10.1017/mdh.2018.40
[ ] Khan FR, Shekili A, Said N, Al Badi AS, Al Khanbashi HA. Exploring the impact of hostel life of students on academic performance: Sohar University–a case study. International Journal of Research in Entrepreneurship & Business Studies. 2020 May; 1(1):1-4. Doi: 10.47259/ijrebs.111.
[ ] Jones NL, Gilman SE, Cheng TL, Drury SS, Hill CV, Geronimus AT. Life course approaches to the causes of health disparities. American journal of public health. 2019 Jan;109(S1):S48-55. doi:10.2105/AJPH.2018.304738.
[ ] Hilger-Kolb J, Diehl K. 'Oh God, I have to eat something, but where can I get something quickly?'—A qualitative interview study on barriers to healthy eating among university students in Germany. Nutrients. 2019 Oct;11(10):2440. Doi: 10.3390/nu11102440.
[ ] Ana Maafs-Rodríguez, Jennifer Pustz, Mehreen Ismail, Laurie Goldman, Peter Levine, Angie Liou, et al. The Health and Housing Study: Nutrition-Related Outcomes Among Low- to Moderate-Income Individuals Living in or Seeking to Live in New Subsidized Chinatown-Based Housing. Current Developments in Nutrition. June 2021;5(2):154, https://doi.org/10.1093/cdn/nzab035_062
[ ] Chakraborty A, Halder S. Identifying Suicidal Risk in College Going Students: A Comparative Study Among Students Staying at Hostel and with Family. Journal of Psychosocial Research. 2018 Jul;13(2):341-8. doi:10.32381/JPR.2018.13.02.8
[ ] Flett G, Khan A, Su C. Mattering and psychological well-being in college and university students: Review and recommendations for campus-based initiatives. International Journal of Mental Health and Addiction. 2019 Jun;17(3):667-80. Doi: 10.1007/s11469-019-00073-6
[ ] Sodik MA, Yudhana A, Dwianggimawati MS. Nutritional status and anemia in islamic boarding school adolescent in Kediri City East Java Indonesia. Indonesian Journal of Nutritional Epidemiology and Reproductive. 2018 Nov;1(3):172-6. Doi: 10.30994/ijner.v1i2.58.
[ ] Memon M, Solangi M, Abro S. Analysis of Students' Satisfaction with Hostel Facilities: A Case Study. Sindh University Research Journal-SURJ (Science Series). 2018;50(01):95-100. doi: 10.26692/surj/2018.01.0016
[ ] Pathania GJ. Food Politics and Counter-Hegemonic Assertion in Indian University Campuses. South Asia Research. 2016;36(2):261-77. doi: 10.1177/0262728016638732.
[ ] Dar IS, Aslam M, Mahmood QK. Psychometric study of depression, anxiety and stress among university students. Journal of Public Health. 2018 Apr;26(2):211-7. doi: 10.1007/s10389-017-0856-6.
[ ] Bashir MB, Albadawy IM, Cumber SN. Predictors and correlates of examination anxiety and depression among high school students taking the Sudanese national board examination in Khartoum state, Sudan: a cross-sectional study. The Pan African Medical Journal. 2019;33. doi: 10.11604/pamj.2019.33.69.17516.
[ ] Neale J, Stevenson C. Social and recovery capital amongst homeless hostel residents who use drugs and alcohol. International Journal of Drug Policy. 2015 May 1;26(5):475-83. doi: 10.1016/j.drugpo.2014.09.012.
[ ] Shree V, Prasad RR, Kumar S, Sinha S, Choudhary SK. Study on consumption of fast food among medical students of IGIMS, Patna. International Journal Of Community Medicine And Public Health. 2018 Jul;5(7):2750-4. Doi: 10.18203/2394-6040.ijcmph20182416.
[ ] Sogari G, Velez-Argumedo C, Gómez MI, Mora C. College students and eating habits: A study using an ecological model for healthy behavior. Nutrients. 2018 Dec;10(12):1823. Doi: 10.3390/nu10121823.
[ ] WaseemAkramD, Qureshi MN, Asif N. Frequency of GIT Disorders Among Medical Students at Nishtar Medical University, Multan 2018;4(11):35-39. Available at: https://www.wjpmr.com/home/article_abstract/1569
[ ] Davoren MP, Shiely F, Byrne M, Perry IJ. Hazardous alcohol consumption among university students in Ireland: a cross-sectional study. BMJ open. 2015 Jan 1;5(1):e006045. doi: 10.1136/bmjopen-2014-006045.
[ ] Erb SE, Renshaw KD, Short JL, Pollard JW. The importance of college roommate relationships: A review and systemic conceptualization. Journal of Student Affairs Research and Practice. 2014 Jan;51(1):43-55. doi: 10.1515/jsarp-2014-0004
[ ] Bulo JG, Sanchez MG. Sources of stress among college students. CVCITC Research Journal. 2014;1(1):16-25.
[ ] Adelabu JK, Amole D, Ajayi AO. Physical characteristics of students' residential environment in relation to dietary habits in University of Ilorin, Nigeria. Agrosearch. 2019 Sep;19(1):87-98. doi: 10.4314/agrosh.v19i1.7
[ ] Ali A, Rasheed A, Imtiaz F, Hussain M, Arsalan M. Knowledge of nursing students regarding housing characteristics and its evaluation. IJEHSR-International Journal of Endorsing Health Science Research. 2017;5(1):37-47. doi: 10.29052/ijehsr.v5.i1.2017.37-47
[ ] Ranasinghe C, Sigera C, Ranasinghe P, Jayawardena R, Ranasinghe AC, Hills AP, King N. Physical inactivity among physiotherapy undergraduates: exploring the knowledge-practice gap. BMC sports science, medicine and rehabilitation. 2016 Dec;8(1):1-9. Doi: 10.1186/s13102-016-0063-8
[ ] Mustafa A, Zafar H, Jawad S, Akram R. Effect of Company during Academic Years on Habit of Cigarette Smoking among Doctors. Annals of King Edward Medical University. 2017 Aug; 23(2). Doi: 10.21649/akemu.v23i2.1616.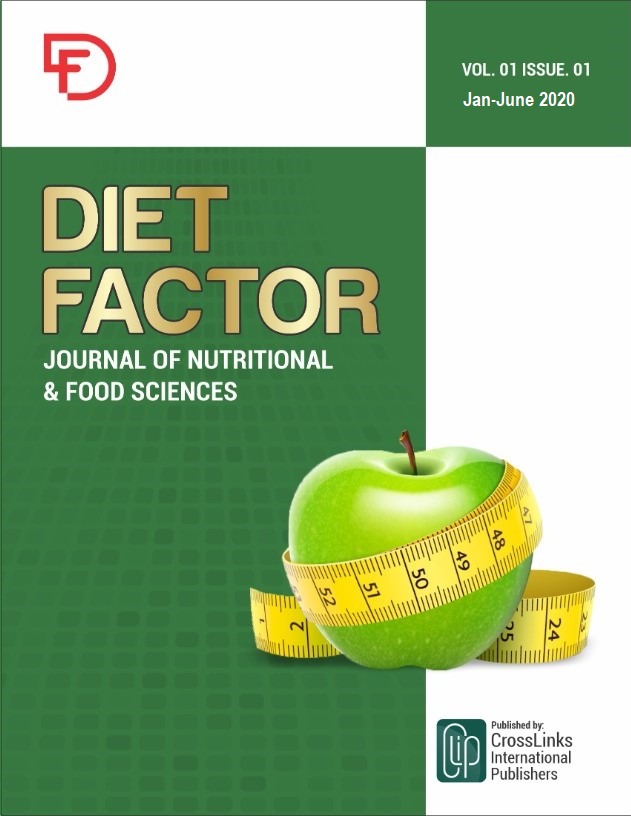 Downloads
CITATION
DOI: 10.54393/df.v2i01.30
How to Cite
Shabbir, T., Aslam, M., Kamran, H., Liaqat, M., Khan, R., & Saleem, M. (2021). Health Concerning Lifestyle and Risky Behaviours in University Going Female Students Residing In The Hostels of Lahore: Lifestyle and Risky Behaviours in Female Hostel Students. DIET FACTOR (Journal of Nutritional &Amp; Food Sciences), 2(01), 09–14. https://doi.org/10.54393/df.v2i01.30
License
Copyright (c) 2021 DIET FACTOR (Journal of Nutritional & Food Sciences)
This work is licensed under a Creative Commons Attribution 4.0 International License.
This is an open-access journal and all the published articles / items are distributed under the terms of the Creative Commons Attribution License, which permits unrestricted use, distribution, and reproduction in any medium, provided the original author and source are credited. For comments