Awareness Regarding Colostrum Feeding Among Nursing Females
Colostrum feeding in Females
Keywords:
Colostrum, Breast feeding, Females, Children
Abstract
The significance of colostrum in promoting infant growth and development and fighting infections is widely recognized, but its acceptance and feeding frequency vary across different ethnicities across Pakistan. Objective: To assess the awareness of females regarding colostrum feeding and breast feeding. Methods: Location of the study was Sheikh Zaid Hospital Rahim Yar Khan. Sample size was 100 and was calculated using non-probability convenient sampling technique. A questionnaire was used to obtain data from females that visited the hospital. Results: The findings indicated that 79 of the 100 women had knowledge of breastfeeding, whereas 21 did not. Only 33 women immediately began breastfeeding after giving birth, as opposed to 67 who did not. The research also showed that just 10 women thought of colostrum as a comprehensive source of nutrients, whereas the other 90 did not. Conclusions: Based on these results, it can be concluded that there is a need to improve the knowledge, attitude, and practice of colostrum feeding among mothers, as many of them are unaware of its importance and the need for initiating breastfeeding soon after delivery.
References
Alimoradi F, Javadi M, Barikani A, Kalantari N, Ahmadi M. An overview of importance of breastfeeding. Journal of Comprehensive Pediatrics. 2014 May; 5(2). doi: 10.5812/jcp.14028
Victora CG, Bahl R, Barros AJ, França GV, Horton S, Krasevec J, et al. Breastfeeding in the 21st century: epidemiology, mechanisms, and lifelong effect. The lancet. 2016 Jan; 387(10017):475-90. doi: 10.1016/S0140-6736(15)01024-7.
McDowell MA, Wang CY, Kennedy-Stephenson J. Breastfeeding in the United States: findings from the national health and nutrition examination surveys, 1999-2006. US Department of Health and Human Services, Centers for Disease Control and Prevention, National Center for Health Statistics; 2008. doi: 10.1037/e455822008-001
Rollins NC, Bhandari N, Hajeebhoy N, Horton S, Lutter CK, Martines JC, et al. Why invest, and what it will take to improve breastfeeding practices?. The Lancet. 2016 Jan; 387(10017):491-504. doi: 10.1016/S0140-6736(15)01044-2.
Croke LM. AAFP releases position paper on breastfeeding. American Family Physician. 2015 Jan; 91(1):56-7.
Leavitt G, Martínez S, Ortiz N, García L. Knowledge about breastfeeding among a group of primary care physicians and residents in Puerto Rico. Journal of Community Health. 2009 Feb; 34(1):1-5. doi: 10.1007/s10900-008-9122-8.
Uruakpa FO, Ismond MA, Akobundu EN. Colostrum and its benefits: a review. Nutrition research. 2002 Jun; 22(6):755-67. doi: 10.1016/s0271-5317(02)00373-1
Loureiro I, Frankel G, Adu-Bobie J, Dougan G, Trabulsi LR, Carneiro-Sampaio MM. Human colostrum contains IgA antibodies reactive to enteropathogenic Escherichia coli virulence-associated proteins: intimin, BfpA, EspA, and EspB. Journal of Pediatric Gastroenterology and Nutrition. 1998 Aug; 27(2):166-71. doi: 10.1097/00005176-199808000-00007
Godhia ML and Patel N. Colostrum–its Composition, Benefits as a Nutraceutical–A Review. Current Research in Nutrition and Food Science Journal. 2013 Aug; 1(1):37-47. doi:10.12944/crnfsj.1.1.04
Arifeen S, Black RE, Antelman G, Baqui A, Caulfield L, Becker S. Exclusive breastfeeding reduces acute respiratory infection and diarrhea deaths among infants in Dhaka slums. Pediatrics. 2001 Oct; 108(4):E67. doi: 10.1542/peds.108.4.e67
Tadele N, Habta F, Akmel D, Deges E. Knowledge, attitude and practice towards exclusive breastfeeding among lactating mothers in Mizan Aman town, Southwestern Ethiopia: descriptive cross-sectional study. International Breastfeeding Journal. 2016 Feb; 11:3. doi: 10.1186/s13006-016-0062-0
Daly A, Pollard CM, Phillips M, Binns CW. Benefits, barriers and enablers of breastfeeding: factor analysis of population perceptions in Western Australia. PLoS One. 2014 Feb; 9(2):e88204. doi: 10.1371/journal.pone.0088204
Saied H, Mohamed A, Suliman A, Al Anazi W. Breastfeeding knowledge, attitude and barriers among Saudi women in Riyadh. Journal of Natural Sciences Research. 2013; 3(12):6-13.
Mbada CE, Olowookere AE, Faronbi JO, Oyinlola-Aromolaran FC, Faremi FA, Ogundele AO, et al. Knowledge, attitude and techniques of breastfeeding among Nigerian mothers from a semi-urban community. BMC Research Notes. 2013 Dec; 6:552. doi: 10.1186/1756-0500-6-552
Chattha MN, Mazhar I, Ahmad SA, Latif A, Rai ME. Breast feeding knowledge and practices in Sialkot. Pakistan Journal of Medical and Health Sciences. 2016 Oct; 10:1272-5.
Ahluwalia IB, Morrow B, Hsia J. Why do women stop breastfeeding? Findings from the Pregnancy Risk Assessment and Monitoring System. Pediatrics. 2005 Dec; 116(6):1408-12. doi: 10.1542/peds.2005-0013
Al-Binali AM. Breastfeeding knowledge, attitude and practice among school teachers in Abha female educational district, southwestern Saudi Arabia. International Breastfeeding Journal. 2012 Aug; 7(1):10. doi: 10.1186/1746-4358-7-10
Oche MO, Umar AS, Ahmed H. Knowledge and practice of exclusive breastfeeding in Kware, Nigeria. African Health Sciences. 2011 Sep; 11(3):518-23.
Joshi SK, Barakoti B, Lamsal S. Colostrum feeding: knowledge, attitude and practice in pregnant women in a teaching hospital in Nepal. WebmedCentral MEDICAL EDUCATION 2012;3(8):WMC003601. doi: 10.9754/journal.wmc.2012.003601
Sohail J and Khaliq A. Knowledge, Attitude and Practice Of Mothers Regarding Colostrum Feeding To Newborns In Rural Pakistan: A Cross-Sectional Study. Khyber Medical University Journal. 2017 Oct; 9(4).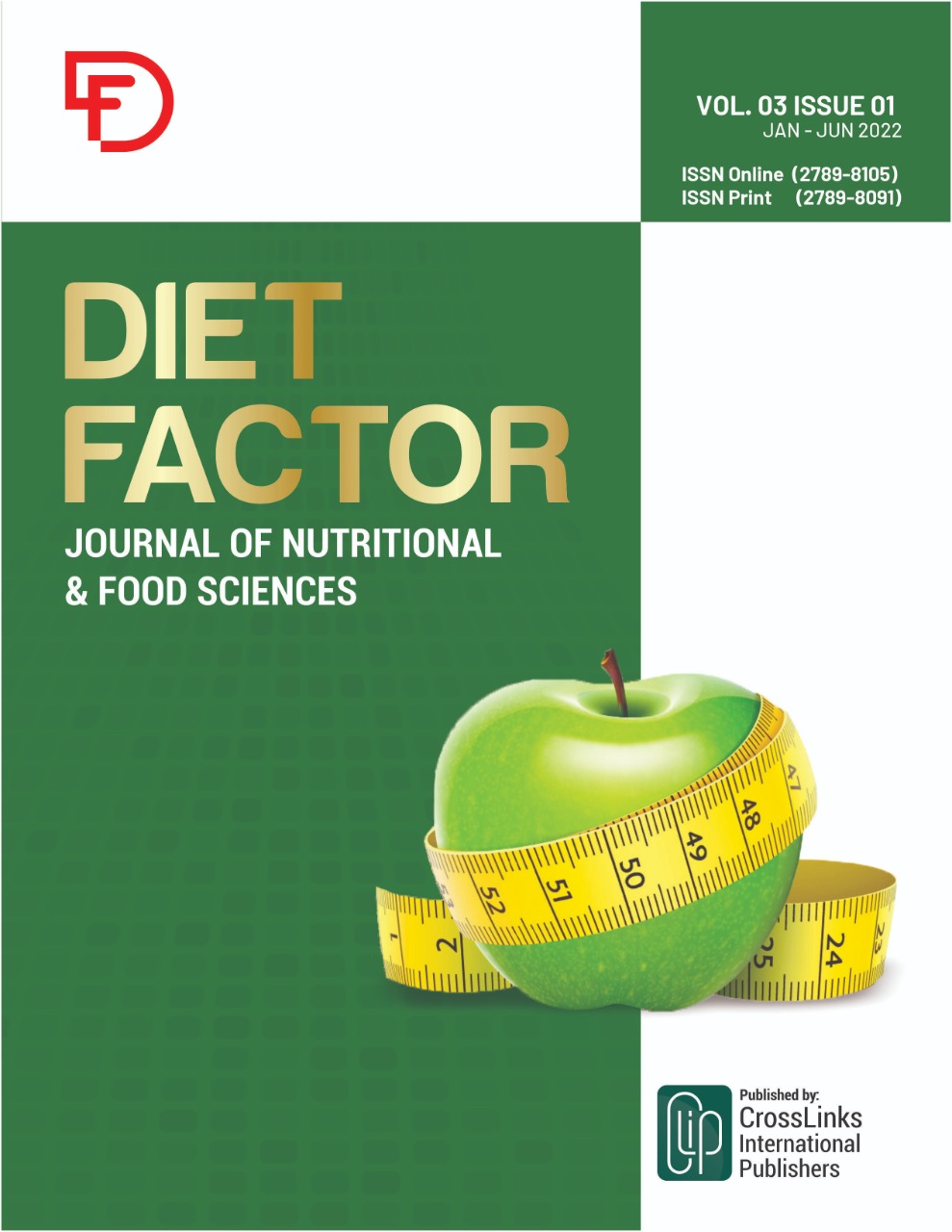 Downloads
How to Cite
Murtaza Malhi, Z. ., Shah, F.- ul-H. ., Huda, N. ul ., Aslam, M. ., & Arshad, M. . (2022). Awareness Regarding Colostrum Feeding Among Nursing Females: Colostrum feeding in Females. DIET FACTOR (Journal of Nutritional &Amp; Food Sciences), 3(1), 19–23. https://doi.org/10.54393/df.v3i1.52
License
Copyright (c) 2022 DIET FACTOR (Journal of Nutritional & Food Sciences)
This work is licensed under a Creative Commons Attribution 4.0 International License.
This is an open-access journal and all the published articles / items are distributed under the terms of the Creative Commons Attribution License, which permits unrestricted use, distribution, and reproduction in any medium, provided the original author and source are credited. For comments