Role of Advanced Tools and Technologies (M-Health Apps & Fitness Watches) in Affecting the Nutritional Wellness and Lifestyle Behaviors of University Students
Role of Advanced Technologies in Affecting Wellness of Students
Keywords:
Tools, Technologies, Nutrition, Wellness, Lifestyle Behaviors
Abstract
A huge increase in mobile health applications and wearable technologies has been seen in young individuals to track the records of progress in healthy lifestyle adaptation. Objective: To determine the role of advanced technologies and tools in affecting the nutritional wellness and lifestyle behaviors among university students. Methods: A cross sectional study was done at University of Lahore, Lahore Campus for duration of 4 months, using convenient sampling technique. Data were collected from 100 university students by a self-governing questionnaire. Different statistical tools were applied using SPSS version 21.0 software to analyze the data which included descriptive statistics and cross tabulation. Results: Out of 100 participants, 56% used wearable technology and 32% did not use while 12% used it in the past. On the contrary, 36% maintained weight and 27% did not maintain. 33% used this technology for awareness against diseases and 36% found no use in awareness out of 100. 52% got help in choosing portion sizes, 48% maintained hydration and joined exercise programs. 40% participants reduced interactions with their doctors due to this technology. 26% participants found that it reduces public health cost while 26%used it for detection of drug cravings. Conclusions: The results of this research conclude that there were a large number of participants use fitness apps and watches. Individuals mostly use these technologies for weight loss tracking and to improve their health. A positive impact of these tools and technologies is hence found upon healthy lifestyle adaptation among university students.
References
Lin X and Li H. Obesity: epidemiology, pathophysiology, and therapeutics. Frontiers in Endocrinology. 2021 Sep; 12: 706978. doi: 10.3389/fendo.2021.706978.
Løvsletten O, Jacobsen BK, Grimsgaard S, Njølstad I, Wilsgaard T, Løchen ML, et al. Prevalence of general and abdominal obesity in 2015–2016 and 8-year longitudinal weight and waist circumference changes in adults and elderly: the Tromsø Study. BMJ Open. 2020 Nov; 10(11): e038465. doi: 10.1136/bmjopen-2020-038465.
Ataey A, Jafarvand E, Adham D, Moradi-Asl E. The relationship between obesity, overweight, and the human development index in world health organization eastern mediterranean region countries. Journal of Preventive Medicine and Public Health. 2020 Mar; 53(2): 98. doi: 10.3961/jpmph.19.100.
Tanzil S and Jamali T. Obesity, an emerging epidemic in Pakistan-a review of evidence. Journal of Ayub Medical College Abbottabad. 2016 Sep; 28(3): 597.
Jukaku SA and Williams SR. The cause of obesity is multifactorial, but GPs can do more. BMJ. 2021 Apr; 373: n956. doi: 10.1136/bmj.n956.
Fitzgerald MP, Hennigan K, O'Gorman CS, McCarron L. Obesity, diet and lifestyle in 9year-old children with parentally reported chronic diseases: Findings from the growing up in Ireland longitudinal child cohort study. Irish Journal of Medical Science. 2019 Feb; 188(1): 29-34. doi: 10.1007/s11845-018-1814-1.
Romero-Ibarguengoitia ME, Vadillo-Ortega F, Caballero AE, Ibarra-González I, HerreraRosas A, Serratos-Canales MF, et al. Family history and obesity in youth, their effect on acylcarnitine/aminoacids metabolomics and non-alcoholic fatty liver disease (NAFLD). Structural equation modeling approach. PloS one. 2018 Feb; 13(2): e0193138. doi: 10.1371/journal.pone.0193138.
Rochlani Y, Pothineni NV, Kovelamudi S, Mehta JL. Metabolic syndrome: pathophysiology, management, and modulation by natural compounds. Therapeutic Advances in Cardiovascular Disease. 2017 Aug; 11(8): 215-25. doi: 10.1177/1753944717711379.
Chin SO, Keum C, Woo J, Park J, Choi HJ, Woo JT, et al. Successful weight reduction and maintenance by using a smartphone application in those with overweight and obesity. Scientific Reports. 2016 Nov; 6(1): 1-8. doi: 10.1038/srep34563.
Eikey EV. Effects of diet and fitness apps on eating disorder behaviours: qualitative study. BJ Psych Open. 2021 Sep; 7(5): 1-9. doi: 10.1192/bjo.2021.1011.
Martínez-Pérez B, De La Torre-Díez I, López-Coronado M. Privacy and security in mobile health apps: a review and recommendations. Journal of Medical Systems. 2015 Jan; 39(1): 1-8. doi: 10.1007/s10916-014-0181-3.
Decker L. The Relationship Between Insufficient Sleep and Obesity Related Health Complications in College Students (Doctoral dissertation, Middle Tennessee State University). 2013. Available at: http://jewlscholar.mtsu.edu/handle/mtsu/3531.
MedlinePlus. Dehydration. 2013. [Last cited at: 29th Feb 2016]. Available at: https://medlineplus.gov/dehydration.html.
Bridges M. Total Body Transformation: Lose Weight Fast-and Keep It Off Forever! Zinc Ink; 2014.
Mayo Clinic. Exercise Intensity: How to Measure It. 2014. [Last cited at: 1st Mar 2016]. Available at: https://www.mayoclinic.org/healthy-lifestyle/fitness/in-depth/exercise-intensity/art-20046887.
Arboleda Carpio SL, Sohail S, Clark K, Fagan JM. Fitness Gadgets as a Form of Preventative Healthcare. 2016. doi:10.7282/T38W3GN0.
Powell JK. Beyond Fitness Trackers At CES: Tiny Wearable Biosensor Continuously Monitors Your Body Chemistry. 2016. Available at: https://www.forbes.com/sites/jenniferhicks/2016/01/07/beyond-fitness-trackers-at-ces-tiny-wearable-biosensor-continuously-monitors-your-body-chemistry/?sh=16e301de2348.
Thompson WR. Worldwide survey of fitness trends for 2020. ACSM's Health & Fitness Journal. 2019 Nov; 23(6): 10-8. doi: 10.1249/FIT.0000000000000526.
Hajj-Boutros G, Landry-Duval MA, Comtois AS, Gouspillou G, Karelis AD. Wrist-Worn Devices for the Measurement of Heart Rate and Energy Expenditure: A Validation Study for the Apple Watch 6, Polar Vantage V and Fitbit Sense. European Journal of Sport Science. 2021 Dec: 1-36. doi: 10.1080/17461391.2021.2023656.
Cho J, Lee HE, Quinlan M. Complementary relationships between traditional media and health apps among American college students. Journal of American College Health. 2015 May; 63(4): 248-57. doi: 10.1080/07448481.2015.1015025.
Miller TW. Effectiveness of a wearable fitness tracker: practice implications in allied health--a single case study. Internet Journal of Allied Health Sciences and Practice. 2017 Jan; 15(1): 3. doi: 10.46743/1540-580X/2017.1604.
Gowin M, Cheney M, Gwin S, Franklin Wann T. Health and fitness app use in college students: a qualitative study. American Journal of Health Education. 2015 Jul; 46(4): 223-30. doi: 10.1080/19325037.2015.1044140.
Seiler R and Hüttermann M. E-Health, fitness trackers and wearables—Use among Swiss students. Advances in Business-Related Scientific Research Conference 2015 Proceedings. 2015 Mar: 1-12.
Henriksen A, Haugen Mikalsen M, Woldaregay AZ, Muzny M, Hartvigsen G, Hopstock LA, et al. Using Fitness Trackers and Smartwatches to Measure Physical Activity in Research: Analysis of Consumer Wrist-Worn Wearables. Journal of Medical Internet Research. 2018 Mar; 20(3): e110. doi: 10.2196/jmir.9157.
Khan N, Marvel FA, Wang J, Martin SS. Digital health technologies to promote lifestyle change and adherence. Current Treatment Options in Cardiovascular Medicine. 2017 Aug; 19(8): 1-2. doi: 10.1007/s11936-017-0560-4.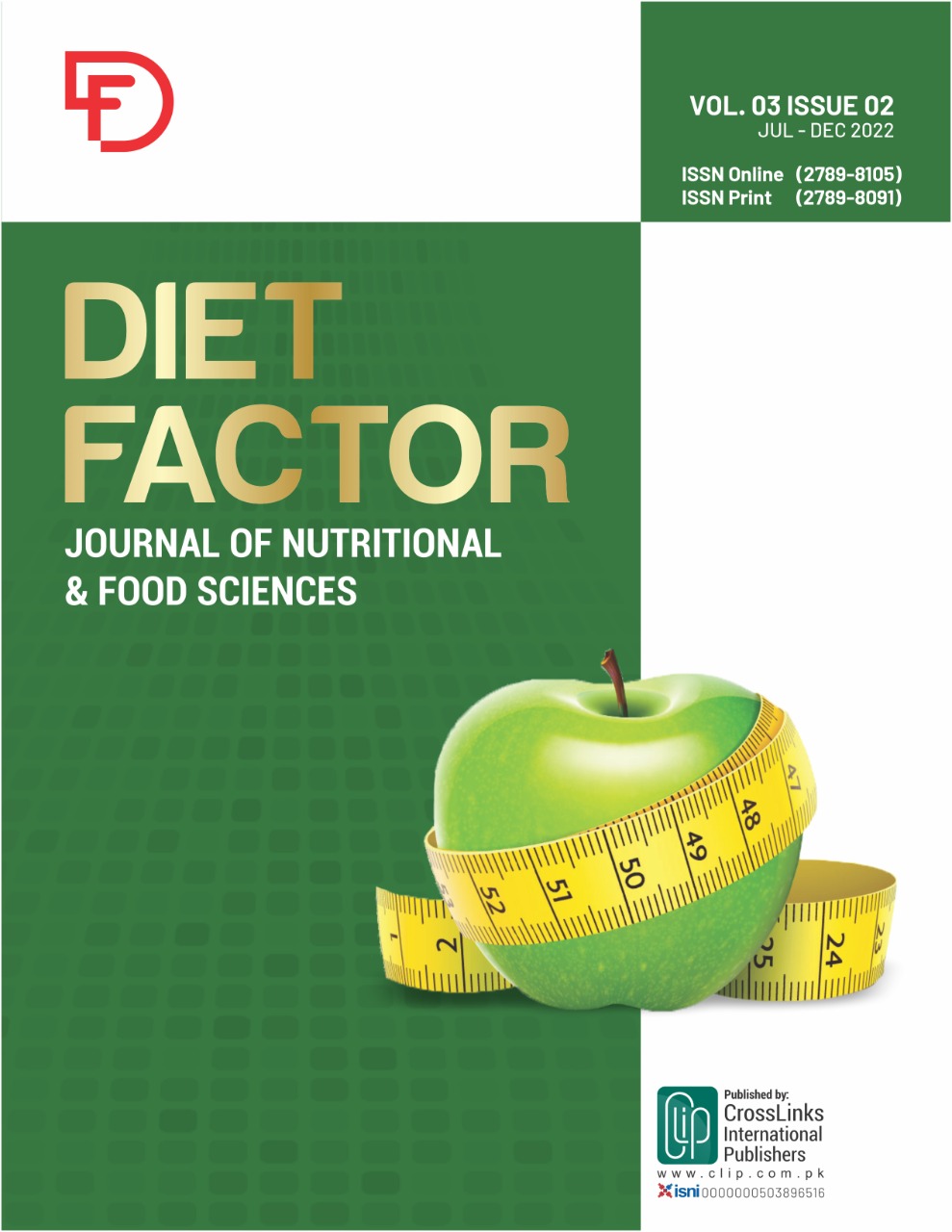 Downloads
CITATION
DOI: 10.54393/df.v3i02.64
How to Cite
Tanvir, T. ., Iftikhar, M. ., Sajjad, K. ., & Ali, R. . (2022). Role of Advanced Tools and Technologies (M-Health Apps & Fitness Watches) in Affecting the Nutritional Wellness and Lifestyle Behaviors of University Students: Role of Advanced Technologies in Affecting Wellness of Students. DIET FACTOR (Journal of Nutritional &Amp; Food Sciences), 3(02), 28–33. https://doi.org/10.54393/df.v3i02.64
License
Copyright (c) 2022 DIET FACTOR (Journal of Nutritional & Food Sciences)
This work is licensed under a Creative Commons Attribution 4.0 International License.
This is an open-access journal and all the published articles / items are distributed under the terms of the Creative Commons Attribution License, which permits unrestricted use, distribution, and reproduction in any medium, provided the original author and source are credited. For comments